Time sure goes by when you are having fun or your memory is failing. I hope I am having fun.
I see family members pretty often now. Of course they are coming to see Mom now who is 89 years old. I am 71 myself, but who is counting anyway? Sam is now almost as tall as I am. I see him checking out other family members. He is way taller than my niece Jannette Sherman, but then, who isn't?
My favorite in-law uncle Philip passed away this year. I'm glad I got to see him at the New York wedding last year.
In addition to the comics, I check out the obituaries but originally I just checked to see if I could tell they were Mormon or not based on information in the first paragraph. No one dies of course. They pass or meet their maker or go home but they don't use the D word. Anyway; the point; now I check their age. Older, younger, younger, younger. I begin to face my mortality.
I long ago decided I didn't want to sleep on the ground on camping trips, so it is good we have a tent trailer and get out into the wild from time to time. We got out to our favorite place on the Salmon River. It is two places actually, one place, Seven Devils, is at 8,000 feet altitude and you have to know how to keep from frying your engine on the way up and how to preserve your brakes on the way down. I think I got it now. We got a GPS receiver so we could find our way home if we got lost hiking. We tried to go around the back side of Babel peak to see some distant lakes and on the way around, Sam decided he wanted to go over the top. Eva and I had the GPS and after a while we realized we couldn't get there from where we were. Unfortunately, Sam didn't know that because he took his own route and we were some worried parents until we were able to get voice contact with Sam on the mountain.
The second place which is only 25 miles away is right on the Salmon River just as it emerges from the wilderness area. This part of the river is known as the River of No Return as it passes through hundreds of miles of wild habitat. At our campsite is a grove of fruit trees used by wild deer for treats. The river bank is sandy and the water is clean and cool. The weather can be in the hundreds at the river camp and freezing at the mountain camp so we get two vacations in one trip.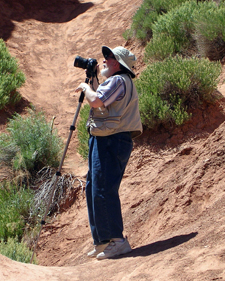 We finally made our trip to Southern Utah and it was very spectacular. I had always wanted to photograph a slot canyon and we found one, not far from Bryce Canyon. We also saw Zion Canyon, Kodachrome Basin and surrounding areas. It became clear to us that we could spend a month in the area and not see it all. It is a vast area of great beauty. I won't be able to show much in our printed newsletter but for those of you who have good internet connections, please go to my Gallery and see the Utah pictures at: http://www.pbase.com/photoleon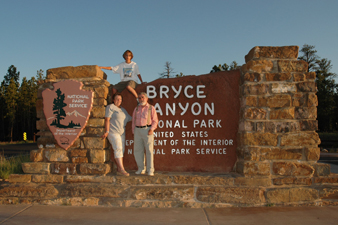 The Utah trip proved to be quite costly in auto repairs. We wore out the front axels of our van on washboard roads and got bad replacement axels that had to be replaced again in Boise when we got home. Also our engine kept cutting out at high speed and in the mountains and we had major timing sensor repairs in Cedar City.
Oh, it was good to be home again. It wasn't long after that the driver side door began to fall off of the van and we had to have it welded back on. It's a good thing the market did well this year because we went way over our budget on car repairs.
The bottom line is we had a great year all-in-all and we hope you did too. Happy New Year!