How quickly the time passes! This has been a year of many changes for our family. We did not travel much. The van (at 14 years old—that must be 112 in car years!) was giving us fits. A money pit, new battery, starter, some kind of computer board, and on and on... It was undependable a lot of the year and I did not very confident in pulling our tent-trailer anywhere. Did NOT want to get stranded in the middle of nowhere. Especially since the middle of nowheres we tend to go do not have cell service.
Sam did get away for a couple of weeks. One week in McCall at Camp Morrison scout camp and then a week scout High Adventure hike into the Idaho mountain wilderness. He loved both. High adventure was hard but fun.
Sam watched the calendar waiting for the time to pass until July 23rd. It had been a long wait since filming Baby Borrowers Aug. 2007. We suspected from the previews and our knowledge of the other teen children, that Sam would be prominently featured.
Earlier in the day, a news crew came over and taped a segment to air prior to the show. They had been having segments weekly as the show was locally filmed. Sam invited friends over for the premiere, they hung out, ate food and when the time came, everyone crowded in to the family room to watch. His friends thought it was incredibly funny. There were audible gasps when I got punked. The first thing out of adult friends mouths was "That's not Sam!"
A la Paul Harvey, here's the rest of the story.
Sam was on set three days and two nights. No television, no computer, no video games, no stereo, not even a radio. Sam went in planning to push his 'teen parents' buttons. Everything he did would be expected of a bored teenager. All three boys climbed on their roofs. All three boys toilet papered the cul-de-sac. Two had a nerf gun war.
The response from Sam's teen parents was yelling, swearing (bleep, bleep, bleep and bleep some more), throwing Sam's bicycle across the lawn. After 50 hours, the wonders of editing gave us about 10 minutes of a high energy teenager, testing the authority of his 'parents'. All with the producers' enthusiastic encouragement.
I spent about half an hour trying, unsuccessful, to explain that you don't get to mold children into who they will be. But Alicea, having gone through this process three times already, and not liking being told she wasn't a good parent was not having any more of that. I was disappointed the Sam sassed me when he came down the stairs because that vindicated his 'teen parents' point of view. Three days without limits would take a few days to reel back in.
Alicea and Cory's final words to me were that they knew they would not raise a child like Sam. And they are right. They are no longer together and if they were, their child would swear, think it is okay to be hit across the face by a parent, be on their own without supervision, not go to church. I'm happy Sam withstood their lack of parenting.
High School is an adventure. Sam is attending Meridian Technical Charter High School, a charter high school with 150 students and state-of-the-art computer technology. A huge transition from middle school with high standards and expectations. It's a love-hate relationship for Sam. Anyone who remembers high school (it has been a while for some of us) knows this is a common state of teen years.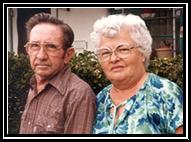 After a fairly uneventful year, the last quarter hit with a vengeance. My job with Pump It Up ended when the business closed its doors at the beginning of October.
On October 15 Leon's mom was released from her long battle with Alzheimer's and she returned to Heavenly Father and her loving husband who preceded her 10 years before. I know they are happy to be together again.
Many of the family were able to come for the funeral. We celebrated Mom's life with the things she loved—family and Mexican food and music.
Leon went to El Paso for the graveside service the first of November. Everyone who knew Margaret, knew that the person who has been with us the past 10 –12 years was not her. It is a blessing that she has gone to her rest. It was a long time in coming.
Just a week later, our ward boundaries were realigned. More than half of the ward has been moved to other wards and we got people from three additional wards. It has been quite an exciting reorganization.
I was quite busy in Relief Society picking up the slack of those no longer with us. But now I'm in the Nursery (18 month to 3-year-old boys and girls). I'm very happy and looking forward to working (and playing) with the little ones. My time commitment is only during church, with minor prep time. Very different from what I've been doing since Ginger Creek became a ward five years ago.
My last responsibility from the old ward organization was co-chairing the annual Christmas party. Attendance doubled from planning for 150 to expecting 300. Someone counted and word was about 340 actually attended. We had plenty of food—talk about the loaves and the fishes! The program spotlighted talents from every part of the new ward. All in all, an outstanding evening.
Everything was complete from the previous organization. On my way to church and my first day in nursery, I got in a fender bender in the van. I was unable to stop in icy conditions. Remember the geriatric van I was talking about earlier? Well, due to age, the insurance company declared it totaled.
We are paying the salvage value and keeping the van. Leon began banging out the fender and found a body repair shop that will make the van completely serviceable, if not pretty.
Sam will be driving some time soon, the van will be perfect for him. (The little tin can that hit me had the whole front end smashed in, not like my banged in fender and door. No way Sam is driving a little tin can while we still have some say in the matter.) We'll be looking for a newer vehicle in a few months. Sometimes blessings come disguised as accidents.
We are doing our part to help the economy, our Christmas present to ourselves is a new dining room set. Our existing table and chairs were ones we bought for our first house on Farnum in San Francisco. We always intended to replace the set, especially the chairs; which Leon has rebuilt over the years and are held together with wood glue and nails in every joint. Now it is time.


We wish we could see everyone more often. But since we can't and don't, please remember you are in our thoughts and prayers.
I attended more funerals this year than ever before. And there were many more not local that I could not attend. I suppose as we get older we should expect to see death touch the lives of those we know; death being part of life, marking its end. But those who left us this year ranged from a 17-year old daughter to a 100 great-aunt. I expect the losses due to age, but accident and illness hit me particularly hard.
We miss all of you and love you and look forward to time we are able to be together. I know Boise is off the beaten trail but it is a lovely place and you are always welcome. If we run out of beds, there is always room on the floor! We have plenty of sleeping bags!
Winter has hit hard this past week so it looks like we will have a white Christmas. Whether yours is white or clear, cold, or sunny; we pray our Savior's blessings will touch your lives.
Keep safe and warm. Merry Christmas! May 2009 bring prosperity and peace to you!