The spirit of the season is all around us, the tree is trimmed, the crèches are out, the house is decorated, the lights are on up and down the street. It is a time that we rejoice in the birth of our Savior, Jesus Christ. The spirit of love and peace is extended to our loved ones and hopefully, the glow extends to all those around us. We listen to Christmas music, and bask in the traditions that carry warm memories of the years past that we also did these activities. Making cookies and candy, wrapping presents, drinking eggnog and warm cider, sitting by the fire, reading old favorite picture books, addressing Christmas cards. Contemplating what to put in the 2003 newsletter.

What do I say? There isn't any one defining moment for this year of 2003. We've been in Idaho going on 2-1/2 years now; in our home just over two years. Sam is growing up, Leon has settled into retirement in his own way – I'll let him tell you all about that. I've filled my life with family, new friends, church and school involvement, building my chocolate business, and doing the same 'ole, same'ole. My life was peaks and valleys throughout the spring and summer but my health is now on an even keel. I'm happy; enjoying life on a daily basis; enjoying my family and friends. And as Martha would say, "It's a good thing."

I guess I can give you some of the specifics. I started out the year traveling to Utah to bring Sylvie to the Salt Lake City airport to fly back to France. Once again it gave me the opportunity to visit with family and friends.

Beth was celebrating her birthday when we arrived so I saw lots of the Goodman side of the family. Meeting great-nieces and nephews that I have only heard about. After getting Sylvie to the airport, I also visited my dear friend Terri in Orem.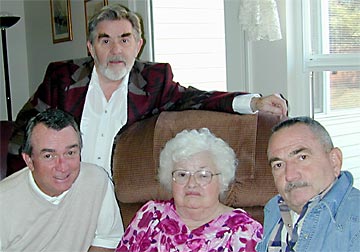 In March, Bill came up from El Paso and both John and Beth came from Provo to see Mom. It was a quick few days and I was tied up with chairing the Pioneer Elementary quarterly staff luncheon. That meant coordinating, preparing, setting-up, hosting, and cleaning up a buffet lunch for 75 sponsored by the PTA. With some help, of course. I'm chairing the luncheons again this school year. I love planning the menus and seeing it carried out. The staff really appreciates it too. It's great to do something nice for the school staff. We're so pleased with Sam's teachers and the support staff at his school.

Sam started minor league baseball this spring. He played on the Rockies team, wearing my favorite color, purple. We got to play on the good fields this year, although a few of the games were on the school fields. All the boys were supposed to play all positions to provide a well-rounded experience. Sam turned out to be one of the best pitchers; it was a very fun season. All of the parents were supportive of their boys and very sociable. We look forward to running into them again next season.

Also in the spring, I took a Food Safety Advisor class at the University of Idaho extension office. I've been canning for years and am pretty much self-taught. I thought it was about time I learned if I was doing it correctly. Luckily, for the most part, I followed directions and the directions kept me within safety's bounds. Unluckily, some of the directions were from very old sources and very much out of date. Food safety standards change as improvements are discovered and better alternatives are found. So we have survived any questionable canning techniques and I'm wiser for the class. I'm continuing with Food Safety Advisor workshops and will be kept up-to-date with changing developments in the field. This fall I went on a field trip with the group to an orchard and winery. It was interesting to see how different the winery tour is here in Idaho compared with California. We were taken outside and saw where the picked grapes are dumped into the hopper and the grapes and stems are separated. Not something they show you in California. But a procedure I found very interesting.

The program also calls for volunteer time so I worked at the U of I booth at the Western Idaho Fair and answered food safety questions in the fall. The extension office is inundated with telephone calls during canning season.

Sam had been lobbying for his our dog, one that would love him the most. (It was obvious that Coco loved me the most and Sam wanted that same experience.) So we began the search for Shiloh. No matter what dog we found, Sam was going to name it Shiloh. We wanted a smaller dog, a beagle being the first choice, dachshund second choice. The pound seemed to only have large dogs. We found a wonderful website that listed all the animals available in all the shelters. So, through this website, we located Shiloh – a dachshund mix, about 11 months old. She was a very sweet, loving dog. Coco can't usually kiss (lick) Leon but Shiloh was so fast at jumping up on you and licking so fast that you could hardly avoid it. Shiloh and Coco looked like Mutt and Jeff, since they had the same coloring. Shiloh was a pretty aggressive dog though and was determined to be higher in authority than Coco. I don't think Coco appreciated the bullying. But he only had to put up with it for five weeks. Unfortunately, Shiloh also had a suicidal streak. Every chance she got to get out the front door she would race 2-1/2 blocks to Cloverdale, a main street. Twice she got across, the third time at rush hour, with HP just up Cloverdale, the traffic is nonstop for a while and Shiloh didn't make it. She had to be put down. It hit Sam quite hard losing her.

At the beginning of May I headed back to Provo for the BYU Women's Conference. My friends Marvel and Fontella accompanied me on the trip. They were terrific to spend six hours in the car with. I stayed with Terri, who was one of several Project Leaders to find volunteers for Sharing Stations. We got next to no sleep but it was a great visit. And it was a wonderful conference. The Sharing Stations were on Thursday evening. There were 91 booths with exhibits demonstrating a service idea under one of three themes: Sharing Our Harvest, Sharing Our Heart, Sharing Our Hands. If you are interested in checking out these ideas, there are full descriptions at: http://ce.byu.edu/cw/cwwomens/booths/home.dhtm.
I put together a booth on chore charts entitled Charting Children's Chores and Cheers. It was fun researching and putting it together.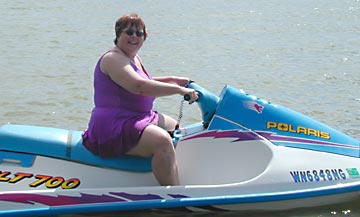 In July our camping trip wasn't as relaxing as the previous year but it was just as fun, just in a different way. We decided to go north towards Coeur d'Alene, and one way to get there is through Oregon. So, on the way there, that's the way we went. Oregon, then Washington. We stayed a few days in Moses Lake, Washington; which is a beautiful setting right in the middle of the city of Moses Lake.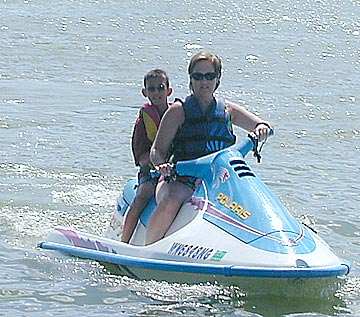 While there Sam and I both jet-skied for the first time. Our camping neighbors were there to enjoy the lake on jet-skis and generously offered us the chance as well. Sam loved it and started the campaign to get our very own. I have to admit – it was very fun.
Then on to Lake Pend Orielle, just north of Coeur d'Alene. We spend a day at the Silverwood theme park. Sam and I rode roller coasters to our heart's content. And Sam did some more. Evidently, my heart reaches contentment before his. Sam got a roller coaster tee shirt to commemorate the occasion.

Then we joined Dee Anna and the 'other Castles' (Dee Anna married into a Castle family, no relation) for their annual camping weekend in central Washington at an area with several little lakes including Long, Ferry, and Swan Lakes near Republic, Washington. We enjoyed getting to know the 'other Castles' and their friends. There were Leigh and Kevin (& his brother) and their four kids: Calvin, Ethan, Domanic and Audrey; James and Eugene; David and Connie; Anne and Elizabeth, Bill And Sara. We had a luau party that Saturday night complete with hula dancing and tiki torches. Sunday we headed back to Spokane and camped in the middle of the city. It must be Washington State thing to have camping in the middle of cities. I also got to enjoy the Old World Christmas factory store 'Christmas in July' sale. They are only open the months of July and December. They were closing out the old mold German ornaments and wooden nutcrackers; so there were fabulous deals. Leon, who thinks we have too much Christmas stuff, thought we didn't even need to stop there. Me, who thinks you can never have enough Christmas stuff, thought I didn't buy enough.

Leaving Spokane, we took Highway 95 south through parts of Idaho that we had not yet seen. The scenery was breathtaking. We passed above Lewiston, the lowest point in Idaho (fact courtesy of Sam's 4th grade social studies class study of the state of Idaho). The valley spread out below us was quite spectacular.

We camped the final few days near Riggins, at a place David Castle told us about. It was lovely, quiet, with the Salmon River between us and gorgeous high canyon walls. While there we picked blackberries, swam in the Salmon River, relaxed.

We came home to dead zucchini. We tried to plant a more diverse garden this year. Less tomatoes (they grow like monster weeds here), more varieties of peppers, Yukon Gold potatoes (we are in Idaho after all), zucchini, yellow squash, butternut squash, green beans, cantaloupe, cukes, basil, cilantro, mint. We expected volunteer watermelon from last year. What we got was volunteer pumpkins – lots of them. Don't ask me, I have no idea where they came from. We did end up with volunteer watermelon. Not too much though. The cantaloupe was like none I've ever tasted. The cukes were prolific. The squash died. We did get some prior to camping. Good thing. Because afterwards it was dead and what wasn't dead was dying. We blame it on the squash bugs and strangulation by the volunteer wild morning glories. The tomatoes had a weird season because it was a hot summer and so hot it killed the blossoms. By the time they came back for a second round there wasn't enough time to ripen.

In August we went camping again near Hagerman. We camped right across the Snake River from Thousand Springs. I relaxed and read on this trip. Leon and Sam fished. And fished. And fished some more. I'll let them tell you about that.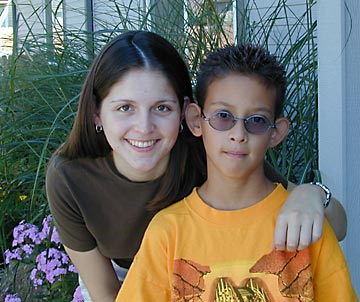 Rachel passed by on her way back to BYU. Sam loved seeing her, it had been a while. We recently received word that she is getting married in May so we're looking forward to that event.

In September Sam turned 10. We celebrated with a Harry Potter Party. Dee Anna came for a two-week visit and was a great help preparing and putting on the party. We sent out parchment scrolls with the invitation.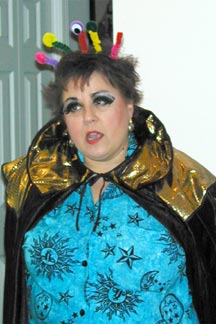 When everyone arrived we used the sorting hat to divide into houses, made wands, we had visiting professors teaching transfiguration, potions, spells, care of magical creatures. We had a wizard hat piñata, butterbeer, and a magical demonstration by visiting professor Leon. It was a hoot!

Leon's mother, Margaret, Dee's mother, Toni and Leon's daughter, Dee and Kiki, Toni's dog.

While Dee Anna was here, her mother Toni also visited so she could see Mom. It was a good visit for all.


For Sam's birthday we also got Shiloh 2. This Shiloh is a male, beagle mix. And now after a couple of months, we have decided that Coco finds this Shiloh to be acceptable. From my viewpoint, it's like having a couple more kids; but I love it.


In September I joined a gym, trying to keep in shape. Leon went to his 50th high school reunion, he'll tell you all about that. It gave Sam and me a few days on our own. While he was gone, a ward split was announced. We've moved from the Ustick Ward to the Ginger Creek Ward. They took four wards and made six. We're in one of the totally new ones. I was called immediately to do the Sunday Bulletin. I'm enjoying that, I like the design aspects and layout work. I've had several opportunities to do that sort of work this year. I put together a cookbook for the Pioneer Elementary staff of all the foods served at their luncheons. I also did a small Mother's Day booklet for church based on a survey the children completed. Quite precious. Back to church jobs -- subsequently I have been called as Home, Family & Personal Enrichment Leader; which puts me in charge of the monthly women' activity meeting. Because it's a new ward and takes some time to get everything organized, I've been continuing as Webelos den leader. It's too hard to catch up the boys when they get behind on their Webelos activity badges. But I'll be out of that soon.

I continue to volunteer in Sam's classroom. I really like his teacher, she inspires the children to work hard and she has high expectations of them. They don't disappoint her. I accompanied the class on a trip to see Indian petroglyphs. Sam will talk more about that. It was a fun day.

I didn't promote my business as much as I could have this fall, but that's the way it goes sometimes. I have decided to sell finished candy products. I have to finish licensing with the health department for that. The search is on for a commercial kitchen. For the small scale that I am working on, kitchen rental is the way to go. But they are not so easy to find. I'm hot on the trail of one that has strong possibilities.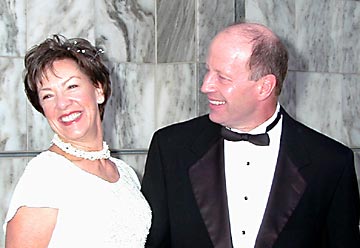 I had the pleasure of preparing the wedding luncheon menu and food for my good friend Marvel's wedding December 6. People keep asking me if catering is my next business but it is an avocation only. I also made candies for the reception, that was great fun too.

Mom has continued her slow decline. She spent ten days in the hospital with the flu and pneumonia in November. She had recovered from those illnesses but is frail.

The year was filled in with our new Idaho traditions of attending the Caldwell Rodeo, Hyde Park Fair, the River Festival, neighborhood get-togethers. New experiences like the eclipse of the moon. We have wonderful new neighbors on either side of us. The development is almost all built and it's a good place to be. We had Thanksgiving Day dinner at the home of our friends, Lisa and Ian Wood. That made Sam very happy because their son Chris is his good friend.

We will be ending the year with another trip to Utah. John's youngest son David will marry on December 19. We're going a few days early to see the lights on Temple Square and take in the Christmas spirit. Sam's looking forward to seeing all his Goodman cousins, especially the boy cousins, Jeremy and Timmy.

We'll return home on December 20 to enjoy our new ward's wonderful prime rib Christmas Dinner Party. We then have several days to enjoy in the spirit of the season for the last few days before the birth of our Lord. We wish for all of our friends and family, both near and far, to be warm and safe this holiday season. You remain in our thoughts and prayers always. We wish we could be with you. Our home is always open to anyone who wants to see what Idaho is about. Or who just want to visit us. You are welcome. Just give us a heads up. I'd prefer the house to be clean.

Merry Christmas and Happy 2004!