2K3 started out fairly normal. Sam and I had season lift passes and went skiing several times right up 'til spring. Sam is in a year round school so he gets a month off at Christmas and another off prior to Easter so we can spread vacation time out in all the seasons of the year. For those of you who live in California, we have four distinct seasons here.
We got some good camping in this year and saw northern Idaho and eastern Washington. I have gotten some excellent photographs and decorated our big white wall in the living room with Idaho scenes. Sam and I found the best trout fishing in the world. By best, I mean you can not miss! There is a place called Thousand Springs where a series of rivers burst out of a canyon wall after traveling 100 miles underground in lava tubes. Some of the springs are hot and some are icy cold. The cold streams are directed towards the state fish hatchery and are the source of many Rainbow trout and Sturgeon in Idaho. Do you know where trout go to spawn? Back where they were hatched! They can't get back into the hatchery but they know the taste of the water they were born in and get by the hatchery but cannot swim back up the falls in the canyon wall. This hatchery also produces a genetic oddity, an albino Rainbow trout which is called a Palomino. They are bright yellow and can only reproduce as Palominos when both the male and female are albino, otherwise since it is a recessive gene they will produce only standard rainbows when they breed in the wild. Every time the State stocks a stream they put a few Palominos in to act as tracers so they can watch their movements in the wild. They can be seen for a great distance and are quite spectacular.
Not only is the fishing spectacular because you can see hundreds of fish in a flat gravel bed span of the river but the Palominos stand out like searchlights. Sam and I can catch our limit in a very short time. Sam catches more than I do because I bait his hook and I never get to get my own in the water before he is reeling one in. Great fun!
When a big high school reunion like the 50th comes up, you just have to do something special. It was the most successful of all reunions in spite of the fact that we lost so many to the grim reaper. I just had to write my memoirs. I started in April and by August I was printing not only the memoir of 160 pages but also a 200 year family history of my mother back to Erastus Bingham who came west with the Mormon pioneers. I gave a few copies away and a man on the airplane wanted to buy a copy and several others I made copies for liked it as well. I had only printed 20 copies so in order to get copies to others I had missed I published them on the Internet. If you would like to see my books go to www.leongoodman.com.
I have a third book in early draft form about how to print and bind your own books in short print runs. I think I have another book in me after that one. It will be a surprise, hopefully next year.
In addition to the usual things in the garden we planted Yukon Gold Potatoes. Planting and harvest was all a new experience for us. It's kind of like growing Easter eggs. Some of them pop out of the ground, but when you stick a pitchfork in and pry back it is amazing what comes up. They are really a new breed of potato and if you haven't tried them yet you are missing something. My favorite way is just to mash them after microwaving them skins and all. The bright yellow color makes them look like they are already buttered. Add a little salt and they are good just like that. We got medium ones and small ones. I am not sure what size you will find in your store but if you can find them they are worth the effort. They may be considered a gourmet item where you are.
Sam and I built a playhouse together in the back yard. I bought an air compressor and a palm size air hammer so Sam could drive 'sinker' nails in the studs. We used the same technique that the framers used on the houses that were being built around us. Sam did most of the construction including the roofing. We used the same siding that was used on our house and painted it the same colors as our house. Sam uses the house in the spring, summer, and fall; and I use it in the winter for storing irrigation hoses and garden tools. It was a good experience for both of us.


A good year, all in all.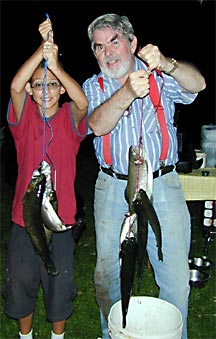 We started fishing an hour before
dark and got our limit before
supper time.

Sam is able to drive 'sinker' nails into 2x4s to frame like the carpenters that built our house. He used the same palm sized air hammer to nail the shingles on the roof.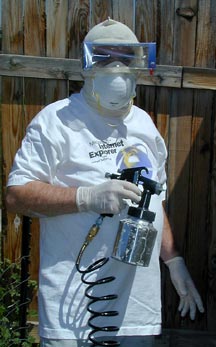 Painting the siding.