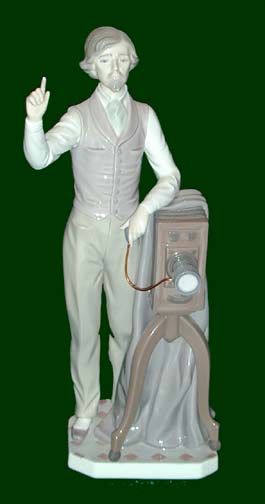 The year 2004 started out a little rocky. Yes, not all holiday newsletters are sweet syrupy pap.

Here goes the organ recital. In December of last year I discovered I had a little blind spot in my left eye, right in the middle. I had heard about macular degeneration and how it rapidly led to blindness. I went immediately to the closest Ophthalmologist, who immediately referred me to an eye surgeon who set me up for surgery the first week of January. The race was on to save my sight. Fortunately, there was a man who could do the surgery in Boise. The surgery was called a "total vitrectomy", they would remove the vitreous gel in my left eye and fill it with gas.

Eventually, fluids would replace the gas. For six weeks I would be virtually blind in that eye. For the first few weeks I had to remain face down, never looking up. I rented (thanks to the internet) a special chair (similar to the ergonomic computer chairs that are used in a half kneeling position) that had a chest plate and a face donut to rest my head on. There was a little table to hold a mirror gadget that allowed me to read with my good eye or watch TV using a pair of mirrors like an upside down periscope. It was very humbling being in a position of prayer for six weeks. All I could see with that eye was a black ring that represented the fluid level in my eye. When I moved the fluid moved. At times it was like I was partially submerged in a pool. I was constantly reminded that the procedure would fail if I didn't follow directions. I worried a lot about being blind and that the other eye was at risk also. And when my eye healed and I began to look around I realized that my vision was worse than before the macular tear. I was not a happy camper. I was also told that this was not my last surgery. The cure also causes the internal lens to degenerate into a cataract. I could expect the next surgery six months to a year later.

Well, I thought in my Pollyanna way, I still have one good eye for a while and I'm not getting any younger, maybe I should just buy one of those new digital SLR cameras coming on the market. So I did. I bought the Nikon D70 and it has been the object of my affection ever since. Well, it didn't replace Eva and Sam.

Back to the organ recital. I set my surgery up for cataract replacement for the beginning of summer. Different doctor. I was hoping to improve my vision a little and by the next morning I knew what a new lens could do for color and brightness and peripheral vision but the center of my eye was still scrambled and not good for reading. I was impressed enough that I set my next surgery for a month or so later. It was perfect. My new silicone implant was dead on accurate at a very comfortable 20/20. Within a month my brain was reprogramming my holistic view and my depth perception came back. I lived in a crystal clear 3-D world like I had never seen before. I was a happy camper again.

Here is the best part. I no longer need glasses except for reading up close. I buy my reading glasses at the dollar store. No more astigmatism, no more bifocals. If you have even the slightest tendency to cataracts, you should not procrastinate that surgery at all. It is painless, it is fast and you see so much better. My new eyes cost $500 each out of pocket with Medicare and insurance supplement. Your mileage may vary.

Speaking of happy camping, we made good use of the camper and went back to the Salmon River near Riggins and to Seven Devils and Heaven's Gate nearby. We blew out a trailer tire on the way up and burned out our brakes coming down from Heaven's Gate. We changed our itinerary and missed Glacier Park but picked up Silver Springs Plunge and Bergdorf Hot Springs during the summer. Sam and I fished and got a lot of good Idaho rainbow trout to last us through the winter. Sam and I go to Thousand Springs on the Snake River and also fish here in town. (A River Runs Through It).

So, it turned out "not too shabby" as they would say in Minnesota.
I would invite you, especially if you have a good, fast Internet connection, to enjoy my photo gallery at http:/www.leongoodman.com. I have over 600 pictures posted from 1980 to just last week showing our adventures in Oregon, Washington, and Idaho. Also, there's a web version of this newsletter including the photos that didn't fit in print. I am considering taking a tour of Guatemala, Mexico and Belize to see ancient cities in March, so bookmark my web site and look in later in 2005.

I hope your holidays are "not too shabby" and you have a good start on next year.