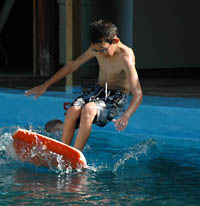 Sam on a wakeboard at Silver
Creek Plunge.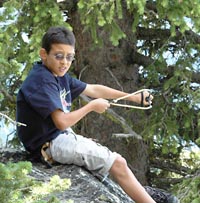 Sam shooting his slingshot at Heaven's Gate.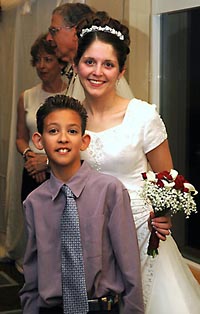 Rachel & Sam
May, 2004 in Portland, Oregon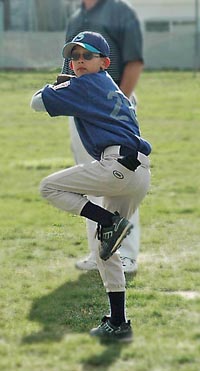 After 7 years of Little League, Sam has retired from baseball. Plenty ot time to go back to it if he changes his mind.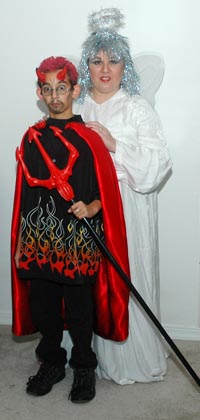 Halloween at home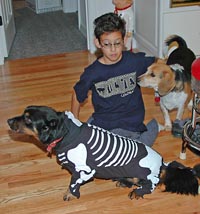 I had a good summer this year. I taught myself how to do a back flip on the tramp. My best friend McKade is the one who helped me learn the back flip, the hardest flip I know. Actually, once you know how it's pretty easy.

I took Shiloh to training. After training was over he started getting into the trash so we had to build a new fence. When my mom was away I earned use of my dad's old digital camera. I like to take pictures of Shiloh.

One day my family and me went camping at Silver Creek Plunge. When I was swimming I met a few new friends. We started to jump on a wake board and 'surf' and see how long we could stay on. Of course I was the one who could boogie board the longest. After me and my friend had to go, we went back to my camp and I said, "So, where are you camping at?" He says, "I'm not camping. I'm in a cabin." Before he left I asked him where he lived and he said, "Well, we're moving to Boise." I said, "Hey that's where I live! Maybe I'll see you sometime."

It was morning. My dad & I got up early to go fishing down aways from our camp. When we got to the fishing spot there was no fish there. Meanwhile, my mom was trying to find us to tell us there were fish right next to our camp. Me and my dad were amazed my mom found the fish. We just started fishing. Right when I casted out I got a fish. Then we got bunches of them. I caught my limit and my friend's limit too.

Another time we were going up to Seven Devils. When we got to the top there were some horses. The problem was Shiloh was real protective. And so was Coco. Then the horses came around the car and Shiloh and Coco started barking their heads off. My dad went out to take some pictures of the Seven Devils Mountains. I was still in the car.

Suddenly a big horse came up to the car and started rubbing it. I felt the sensation that the car was going to fall over. Suddenly out of nowhere Shiloh comes barking at the horse.

For Valentine's Day I made pretzel rods with my mom to give to all my friends. When she has chocolate classes I help demonstrate how to drizzle on the truffles. When I help my mom, I help people in her little store and I help her set-up the chocolate and when it's over I help her clean up the chocolate. And sometimes I even make bark. And she pays me for it.

School's going great. My teacher's real nice too. Her son's in middle school. The subject I like in school is art. Art's fun.

Most of the time I play with my friends, have sleepovers and play video games. I burn my own CDs off the computer. Some of the CDs I like are the "Now series – that's what I call music".

Have a happy year!
Sincerely, Sam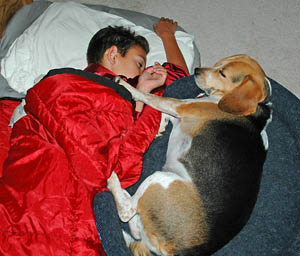 The boy and his dog.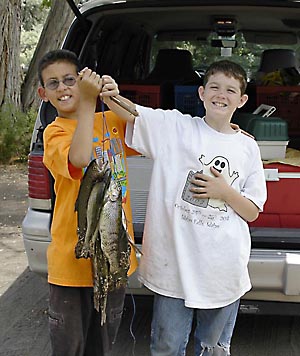 Camping and fishing with Chris over the 4th of July weekend in Hagerman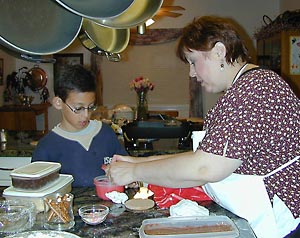 Sam and Eva making candy pretzel rods for
Valentines day.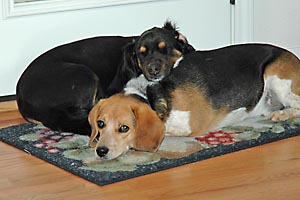 A typical day at home with coco and Shiloh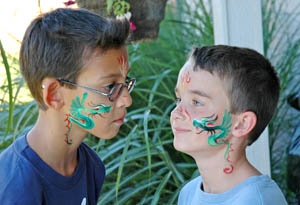 Matching dragons, courtesy of the Western Idaho Fair.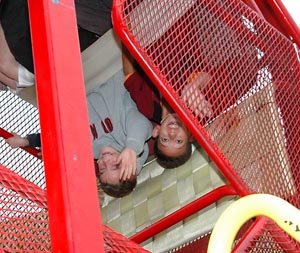 Hyde Park Fair had Sam & McKade on their heads in near delirium, they were having so much fun.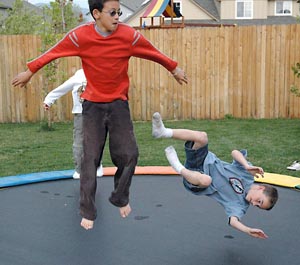 Sam, McKade & the other Sam (behind our Sam) doing one of their favorite things -- jumping on the tramp.