History of Edna Bingham Sabin
Written by Edna Bingham Sabin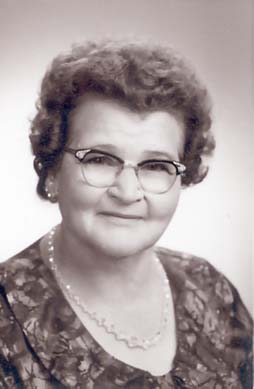 My great grandfather and grandmother were Erastus Bingham and Lucindia Gates. Their son, Erastus Jr., married Susan Green (second wife). Nephi Bingham, the son of Erastus Jr., is my father and Elizabeth Dalkin is my mother.
My father was born April 9, 1858 in Ogden, Utah, Weber County. My mother was born in Durham, England October 27, 1865. My father lived in Huntsville, Utah in Bingham Canyon when he was young. When he was older, he had rheumatism so bad he couldn't walk. So, he moved to Silver City, New Mexico. He was living with his brother Daniel.
My father, his brother Daniel, George Francis Harris, Dan Harris, and Dan Lively were freighting ore from the Florita Mountains to Silver City, New Mexico. My mother had a sister living in Silver City. She came from London to visit her. My dad fell in love with her and they were married July 31. Soon after, they moved to Utah. Mother's folks didn't care for her any more because she had married a Mormon. Later, they went back to Ogden. The next year their first child was born January 2, 1889 in Blue Valley, Utah. They named her Rebecca. They were living with Grandpa Erastus. Grampa had two large families. His first wife, Olive, was living with her two daughters, Luenda and Cedina. They had both married William Foy on June 14, 1890.
My sister Mae was born at Torrey, Utah, out from Richman. Later, they moved to Mancos, Colorado. My grandpa and his family moved too. So, he, with his father and most of his family, moved to Casa Grande. He leased the Scribner's place. I was born June 10, 1895. We lived there a while, then moved to Arizola on a new tract of land between Casa Grande and the Arizola rail road station. My father cleared the land of brush and made fences of hog wire and stocked it with hogs. I was in Arizola when my brother Glen was born December 13, 1896. We didn't stay there very long as the water was bad and my father's health was bad so we moved to the Taylor Place back to Casa Grande. Floyd, the second boy, was born August 13, 1898 while living there. We made a few trips to visit Grandpa, Grandma, and Uncle Dan and Aunt Liza who were living near Florence. Uncle Jacob, my father's youngest brother, lived with us to help Father with the work on the farm. He was working in a candy kitchen before he came to live with us. He made candy with mare's milk. He was good to us but he liked to play tricks on us. He even took us in the pig pens to see how dirty us girls could look. Later, Father sold all his hogs and shipped them to market. His health wasn't any better so they decided to move to Tucson, Arizona.
My grandpa and the rest of the Bingham family that was living at Vail moved in to Tucson and they all leased the Davidson Ranch six miles north of Tucson, across the Rillito river. They all built their homes on three sides of a big square leaving the south side open for the entrance and to see the river. Our place was at the north west corner. My Grandma and Grandpa next to us. Then Aunt Clara, Aunt Lettie, Benny Price, Dave Lively, Uncle Erastus, and Uncle Dan.
We went to school across the river. I was in the first grade with Miss Nelson. The next year they built a new school on the west side of the block. Miss Welcome was the teacher. I stayed nights with her as she was afraid to stay alone. There were big beautiful trees around the homes and a big place with tables to play and make mud pies and loaves of mud bread as a ditch of water was a few feet away. It was in this ditch that everyone got their water. We had to fill our water barrels to last to next morning. We got up real early to get them filled before the cows got in it. For two or three years I always had to fill Grandpa and Grandma's water barrels. We carried it with buckets and poured in the barrels.
The next Christmas, Grandpa and Grandma gave me the prettiest little doll about eleven inches long, with brown hair and brown eyes and pink dress. It's the first doll I remembered having. My sister Clara got a doll with blue eyes and blond hair and a blue dress. We didn't have doll buggies. We would get cottonwood limbs and tie our rag dolls on it and push them along and played like they were buggies. I used to sit on Grandpa's lap and comb his whiskers. He taught me how to make button holes in my panty waist and pantys. We didn't have elastic in those days, so we had to use buttons and button holes. I always loved my grandpa and I would take walks with him. I remember he broke a tooth out of his comb. It was near his birthday. I asked my father if he would buy him another one so I could give it to Grandpa for his birthday. He just said, "you and your Grandpa." Next day, he bought the comb and I gave it to Grandpa for his birthday. He seemed so happy and was so good to all his grandchildren, and was loved by all of them.
We all lived on the Davidson Ranch. Dan Harris died when the five year lease was up. Father was the one that picked the grave site. Some of my uncle's wives got homesick to go back to their old homes. Some went to Idaho and others went to different parts of Utah. Grandpa and Grandma moved to Mesa where there were lots of Mormons. Father, Mother, and his family moved to the Manning Ranch near the Santa Cruz River. The water was very bad there and we were all sick at times. My brother Glen had typhoid malaria fever and was very sick. He almost died two or three times. We all went to school but Glen. We stayed there less than a year.
We moved to the Hall Place or Ranch, that was the name of the people living there. Mr. Bayless bought the place and hired Father to run it. It was called the Bayless Ranch. It was on this ranch my father loved to farm. He cleared the land of mesquite trees and catclaws. Times were very scary and we had to keep our eyes on the ground. The ground had been plowed and snakes were everywhere.
We all slept outside in hot weather. We put the bed springs and mattresses on high wooden horses so the snakes couldn't climb in our beds. They would come in the house and curl up in corners. One day I opened the dresser drawer and there laid a snake. Lots of times we would find a snake with one head and two tails, one had swallowed the other.
Father, he planted wheat, barley, oats, and alfalfa. He had a big garden of all kinds of vegetables. We had fields of strawberries, blackberries, logan and raspberries, all kinds of fruit trees. He would help the poor people in every way he could. He would go six miles with the wagon to get little children from the orphans home to bring them out to spend the weekends. He was so tender hearted. He wanted to be giving to all that came to the ranch. He would take food to the poor Mexicans and Indians. During harvest season, he would bring the Yaqui Indians to the ranch. They lived in little wick up until the crops was gathered. They were willing to work for a dollar a day. We had a little store next to our house where they could buy their groceries. You could sure buy a lot for a dollar. We had missionary coming every little while but no converts, so they didn't stay very long. They would stay in town but most of the time at our home. My father was baptized a Mormon when he was eight years old but Mother and the rest of the family didn't. Mother belonged to the Lutheran Church. She didn't understand polygamy.
Clara, Glen, Floyd and myself went to old Ft. Lowell to school. We had to walk two miles going and two miles back. Mrs. Decker was our teacher. At the end of two years (fourth and fifth grades) there was enough children in the neighborhood to have a school close by our home. My father saw that a building was built and he was made trustee of the school district. Miss Clancy was the first teacher for one year. Then Mr. Waldrun for one year, Miss Spires two years, Miss Hendricks.
In September 1909, trouble with the Mexicans was coming up. My dad's health wasn't too good and he had to take it easy. He read the Bible, the Doctrine and Covenants through and through and he was so inspired that in another year or two there was going to be a war in Mexico. He had a sister just older than him living down in the Mexican colonies, had eleven children. In September 1909, we went with my two older sisters to Mexico to go the Colonia Juarez to go to college. When he came back, he brought this nephew, Heber Farr, the oldest son of his sister, and Jane's husband. He was a brother-in-law of Heber. They looked over the Davidson's Place where we once lived and decided to move to Tucson to make their homes. Dad helped them to get horses and covered wagons to make the trip and on December 15, 1909 the wagons came rolling in. All our cousins and their cousins and their in-laws. They all worked hard to get their crops in. What a happy reunion. We were all so happy to have them there. Everybody loved everybody. Joe Farr, one of our cousins, stayed with Uncle Jacob; and Heber Farr and his wives' folks stayed with us. Until they could find other places most of them lived in tents. They had wooden floors and was boarded up three feet from the bottom.
Then on Saturday, May 22, 1910, a most joyous thing happened. Father, Mother, Clara, myself, Glen, and Floyd were all baptized into the Mormon. President Joseph B. Robinson of the California Mission and President George Albert Smith from Salt Lake was there. In our front yard, a ward was organized. Sunday, May 22, 1910 we were all confirmed. My sisters Rebecca and Mae was baptized into the sacrament. The ward was called the Binghampton Ward after my father. Heber Farr was branch president. George William was his first assistant. The other assistant I don't remember. The Sunday School superintendent was Joe Farr, Alma Young and Frank Webb. The secretary was Clara Bingham. The assistant secretary was Hazel Williams. I don't remember the Sunday School teachers. I was the primary teacher and took care of the cradle roll. That job was to get the names of all the newborn babies and the ones that was too young to enroll in Sunday School. Later on the Mutual Improvement was organized. Elizabeth Farr, President; Mae Bingham, first councilor; don't remember the second councilor.
That was the beginning of a new life for all of us especially for my father, my mother, and their family. We were all happy and loved each other like one big family. On June 4, 1910, a blessed event happened. After 12 years, my little brother was born. We all loved so much. It was a long time since we had a baby in our home. My father was so happy having him in our home. Mother didn't have much milk for him. When he was about three months old, Daddy would take him across the river to a cousin, Hilda Farr, that had a baby a day later than Delbert to get one good feeding a day. Daddy had a two horse cart and one horse. He put a little bed down by his feet for Delbert to lay in. I was staying with a sick cousin to help her and Daddy would bring the baby by every morning so I could love him. Our home was full of love and joy with him. What a blessing he was to all of us.
The next year the war beginning to get bad in Mexico. Mae and Rebecca had got back from Mexico by 1912. It was very bad. The people were driven out and forced out. Their homes were all destroyed. They came to Tucson, Douglas, and El Paso. Binghampton sure did grow with Mormons. Some of them settled as Jaynes Station, cleared the land and planted it. A branch of the church was organized and a school house built. Every Friday there was a dance first at Binghampton then at Jaynes Station. Daddy had a lot of Mormon boys working for him. He always planned for our enjoyment. Dad had the boys fill a hay rack with hay and stretched a canvas over it tight, add quilts, it was filled with boys. He had two span of mules he wouldn't work on Fridays, so we could use them Friday nights. He wanted us to have a good time but be good to the mules. He gave us a cow bell to jingle instead of a whip and the mules would take off like lightning, then a little jingle once in a while. It was ten miles to the dance but we had lots of fun getting there. We would always be home before one a.m.
Dad was loved by every one with his kindness and helpfulness. They were Uncle Nephi and Aunt Lizzy to every one. My sister Mae was married in 1911 and Clara in 1913 and Rebecca in 1914. I was the last girl left at home, In May 1915, my cousin was going with a tall, dark, and handsome young man. She went to visit some of her relatives in Mancos, Colorado. When she left, she asked me if I would take care of Fred while she was gone. I said what do you mean. She said ask him up to dinner and Sunday School and church. I did and he has been eating dinner with me ever since. We were married the following October 15, 1915. We rented a small apartment in Tucson. He was foreman of what they called the steel gang. They were laying rails from Vail to Benson. Fred's job with his men bonded the rail by hooking the underground wires to the signals that was for safety in running the trains.
Cooked on the baler, cut wires, herded sheep. Clara and I and two dogs. How we paid tithing. Took care of chickens. Worked in the field. Picked berries, sold them in town, Took cream to the ice cream makers it took one hour to go on horse and buggy and one hour to go home. Went to Sabrino Canyon for picnics, Glen, Floyd and I got lost in foothills. Dad found us at the farm gate. Uncle Dan died of old age. Dad picked the burial place in foot hill.
As you can see, this draft was never completed. It was taken from a spiral notebook written in ink by her own hand.