History of Fred James Sabin
,
Sr.
Written by Fred James Sabin, Sr.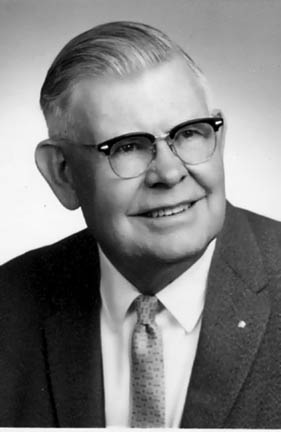 I was born August 25, 1894 in Salem, Utah. I am the eleventh child of Ambrose and Margaret South Sabin. I had seven brothers and three sisters. My brothers are George, John, Joseph, Benjamin, Frank, and Leroy, William and Charles. My sisters are Elizabeth, Amanda, and Elenor. In 1899, we moved from Salem, Utah to St. David, Arizona. My father passed away when I was eleven years old, I had to stop school to help make a living for my mother. I worked on farms from Benson to Marmoth and the Gila valley.
Later on, I started working on the Southern Pacific railroad as a call boy and in other departments of the railroad. Later on, I quit the railroad and worked in the mines in Bisbee, Arizona for a while. On August 11, 1914 I went back to work on the railroad in a place called Mescall in the signal department. In February 1915, I was transferred to Tucson, and worked in the signal shop and maintained the signals near Tucson. I liked those trips in the country as I liked tamales very much and I could buy them for my dinner. The place was a block or so from my work, so I would go over and get some. One day, I went over to get some, the door was closed, so I went around to the back of the place. I noticed several dogs in the yard fenced in. I opened the door and walked in, there they were skinning a dog to make tamales. Well, I didn't buy any tamales and no one else did, as I reported it to the city officers, and they closed up the place.
I attended night classes in electricity; which helped me very much in signal work.
I rode six miles on a motorcycle to a little Mormon church in Binghampton. It was there I met Edna Bingham and on October 15, 1915 we were married. We lived in an apartment on Church Street. On December 22, I was promoted to a signal foreman and a little box car home was furnished for us by the railroad company, and parked on a siding called Irene. We spent Christmas with Mother in St. David, and went to our little home on wheels January 1, 1916.
My gang bonded rails from Tucson to Benson. Two months later, we were moved to a siding called Amole. The work was completed by May 16, 1916. The signal department assigned me to a relief maintainer job. I was sent to Wilcox, Arizona for three weeks. Then on to Sentinal for two months, then we moved to Aztec where I worked until September 1, 1916 when I was transferred to Estrella, where we lived a year. While there, we had a little brown-eyed girl come to live with us. We named her Margaret Elizabeth. She was born July 8, 1917.
The last of July we had a cloud burst. I went to the telegraph office to see if I had any message. The dispatcher asked me if I would go see how his wife and baby was. She was a very small woman. She was standing on a chair with her baby in her arms. The water in her house was up to my arm pits. I carried her and her baby up to my home; which was on a hill.
A month afterwards, while riding the motor car to work, it jumped the track and I hurt my hips. I went to the San Francisco Hospital. The doctors advised me to wear a cast, made of canvas and steel stays, and to stay out of the motor car. I was sent back to Tucson and was given an easier job. I worked as a traveling electrician.
The first of October 1917, I had two weeks vacation coming to me. We took our baby and went to Salt Lake City and had her sealed to us in the Temple. We lived in Tucson for a year and three months. On November 30, 1918 a little tow-head came to live with us, we called him Fred, Jr. On December 1, 1918, I was assigned to a maintainers job in Deming, New Mexico. On December 4, I left Tucson and went to Deming to work. My wife wrote me she was coming to Deming December 20th and would be on train No. 2. I was in the depot when a telegram came that No. 2 train had been derailed, so I hopped a freight train and went to Lorgsburg. When I got there, I found out it was the first No. 2 that was carrying baggage and Christmas express. So I knew my family was on the second No. 2 train. I got on that train and went on to Deming with my family. When we arrived there at nine p.m., there was 18 inches of snow and the wind was blowing but we were glad to be together again. We had a lot of enjoyment in Deming as we went to old fashioned dances and had a nice bunch of friends and would have dances in our homes every Saturday night.
I helped organize the first band in Deming. I played the baritone and saxophone. I was dressed and ready to go to play in a band concert when an engineer on a cattle train told he had trouble, and wanted me to see what I could do to help. He told me if I couldn't help him the train would be held up for several hours. The fitting on the water injector was broken. I fixed it and he was on his way in less than an hour. Later, I received a letter of merit from the superintendent of the Southern Pacific Railroad Company.
Along with my railroad work, I bought and sold cars and made radios and sold them, as radio had just come out and was hard to get. The first big radio I made and made a cabinet for it, I sold it to Dr. Vickers and squared a bill I owed him for surgery on my wife.
While in Deming, a wee little girl come to live with us. She weighed two and a quarter pounds, we named her Iva Mae.
In July 18, 1929, I was sent to El Paso. As I was unable to ride motor cars, a signal shop was organized and I was one of three men that worked in the shop. Later on, more men went to work in the shop and I was promoted to leading signal man. In 1932, I made a gadget to change journals in signal head. Previously, the company would send a gang out to change them out. One man could do the job by himself with this gadget. This is still used. The Southern Pacific gave it the name of Sabin, and it is still being used all over the Southern Pacific system.
I had a little fix-it shop and worked on electrical appliances. Most of my work was for barber shop and beauty shops. This I did on my days off and evenings.
On July 28, 1934, Margaret married Leon Goodman. In 1936, we bought us a home at 3701 Oxford Avenue. We were living in a house furnished us by the railroad at that time, so we rented our home one year, and moved in it in 1937. We had a lot of enjoyment along with the work. I organized a square dance club, started teaching two sets. Within a year, there was seven square dance clubs organized; which I was an honorary member. These clubs were up and down the valley of the Rio Grande and in the vicinity of El Paso. Fred Jr. was married January 15, 1939. In 1940, I had to have surgery and that was the last of my square dancing.
On February 28, 1959, I retired from the railroad. I maintained my fix-it shop until September 9, 1960. We decided to buy a new car and a trailer and do a little traveling. We rented our home and left El Paso November 5, 1960 for Mesa. We did a lot of endowment and sealing in the Mesa Temple during the winter. May 1, 1961 we left Mesa. We went to Alamo, Nevada to visit a cousin, Gertrude Bingham Nelson. We stayed there a month, then we started to Heyburn, Idaho to visit relatives. We were within twenty eight miles of Ely, Nevada the wind hit our trailer and jack-knifed it. The car was first on two wheels on one side and then on two wheels on the other, seemed like we were going over. It was that way for 200 feet before I got the car and trailer to a stop. The front of the trailer was banged up and three big holes in it but we didn't mind that. We were thankful to the Lord that He had spared our lives. We opened the trailer door to see how it looked inside. We just laughed, everything out of the cupboards, icebox, and stove were on the floor; together dishes, Tide, a half gallon of milk, along with the suds, flour, sugar, cocoa, spices, pots and pans. What a mess. We closed the trailer door and went on. We got to Wells, Nevada where we stayed in a trailer park. It took us two hours that night to clean up our trailer. Next morning, we were on our way to Heyburn, Idaho. We stayed a month there, and visited relatives in Twin Falls and Rupert. Leaving our trailer in Heyburn, we went to Idaho Falls and went through the Temple. Then on to Cardston, Canada, and went through that beautiful little Temple on the hill. While up there, we saw some beautiful country. We went through the Glacier National Park, what a beautiful sight it was; mountains, lakes, glaciers, and trees. On July 18th, we went back to Heyburn, hooked on our trailer, and was on our way to Oregon, stopping in Boise, Caldwell, and Weiser to visit relatives. Sightseeing, never saw so many dams and so much water. We went on to Pennington, Oregon, stayed there two days, then went on to Portland, Oregon. While there, we went to Grants Pass, Medford, Crater Lake, the Oregon Caves, the Mystery House and Depot Bay. On the ocean, did a little fishing. We went to Washington, and up to Mt. Adams and Spirit Lake. While there, we picked enough huckleberries to can and bring back with us.
We left Oregon September 8, 1961 and stopped at Twin Falls, Heyburn, and Rupert for a week. From there, we went to Logan and attended the last session in the Logan Temple before it closed for October conference. That was the 28th of September. We left the next morning for Ogden, Utah. We stayed there a week visiting relatives, then we went on to Salt Lake. Stayed there a few days and visited our granddaughter and other relatives. We went through the Salt Lake Temple. It began to rain and snow, so we went on to Provo and visited relatives. While there, we drove to Manti and went through the Temple. We left Provo October 12 and drove to Hurricane, Utah. While there, we went to the St. George Temple. That day we had the privilege of doing 36 sealings. We stayed in Hurricane, Utah until the 30th of October. Then we left for Mesa, spending the night at Hope, California, then drove on the next day to Mesa, arriving there November 1, 1961. We stayed in Mesa that winter and went to the Temple often. In June, we went to Show Low, Arizona and parked in the Show Low Lake Trailer Park, where we have been coming the last four years, going back to Mesa for the winter. Show Low is in the White Mountains of Arizona where there are lots of lakes and good fishing. We will have our Golden Anniversary October 15, 1965 this year. We have three children, eight grandchildren and five great grandchildren.