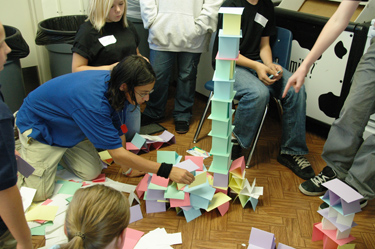 At school, Sam assisted the 7th graders in a team building workshop.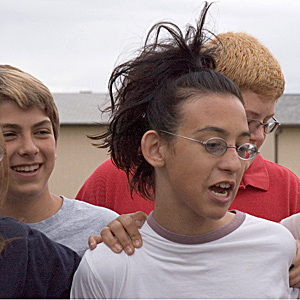 American Idol's Sanjaya was all the rage in the spring. Sam went one day last week of school with a Sanjaya 'do. It was a major sensation!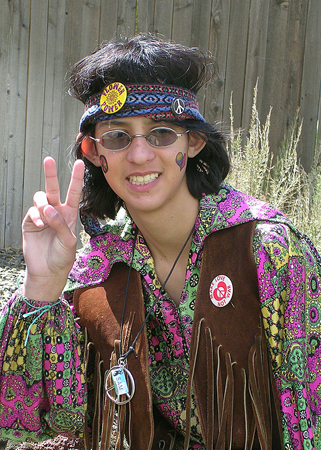 During a pick your decade day at school, Sam chose the 60's. The shirt came from my closet, a remnant from my high school days. Not quite 60's, but close enough. Sam liked the look so much, he went with a 60's theme for his 14th birthday party.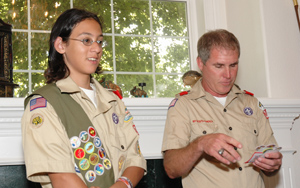 Scouts. Assistant Scoutmaster Scott Adams presenting Sam with his Life rank. He should be finished with Eagle by spring.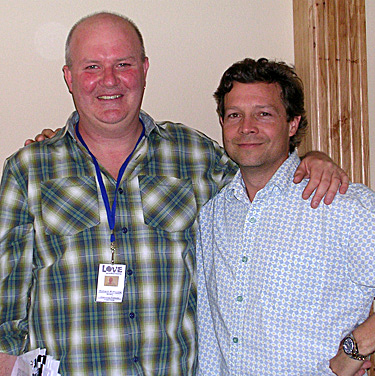 Executive Producers, Richard McKerrow & Tom Shelly from "The Baby Borrowers", the reality show Sam is on, showing on NBC. Don't forget to tune in—starting Mondays,
Feb. 18th!
Words from Sam
2007 was a fun year. I went sand boarding at the Oregon Coast, I can get some air on my skateboard, and oh, yeah, I'm going to be on TV. It was awesome! I had three days on site of a new reality show called Baby Borrowers. Eddie, another kid on the show, and I TPd all the houses one night. One of the teem parents came out and said "Hell, no you didn't!" So we all booked it to our own houses. It was so fun, until we got caught. You should have seen the faces! It was hilarious!
I still go to Pathways. School's awesome, I have good grades. I'll be doing my Eagle Project at the school after winter. Since it is a new campus, I'll be planting trees and making benches to help finish the landscaping.
I went to Scout Camp again last June. In January I'll be applying to work as a CIT (Counselor-in-Training) at Camp Morrison. Since Eagle Scouts are given preference and I only have my project to finish to get my Eagle, that should help.
I have a job at Pump It Up. It's fun and there's always something different to do.
Other than that, I hang with my friends or talk on the cell or text them.
Later.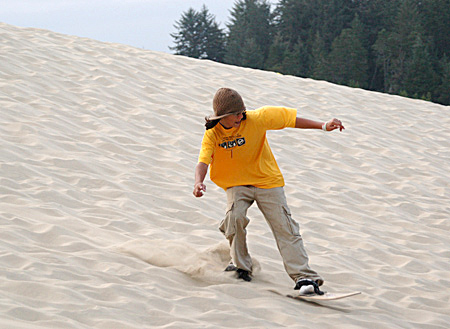 Shalice and Elena.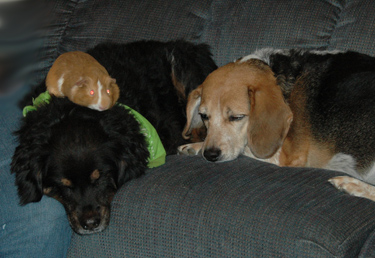 The Guinea Pigs. We lost Butterscotch to complications from mites in the spring. Then, we lost Squirt to heat stroke in July. We went the summer without pigs, but I missed them & went out & got Toffee (below with Coco & Shiloh). Another day or two passed before I got Rocky Road to be a companion to Toffee.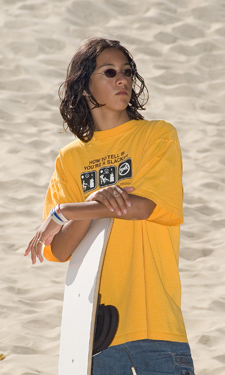 Note from Eva: I love this photo of Sam. The others give you an idea of sand boarding in action.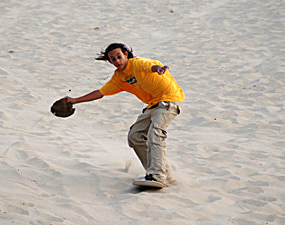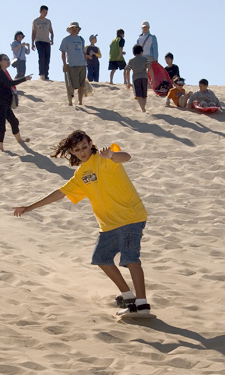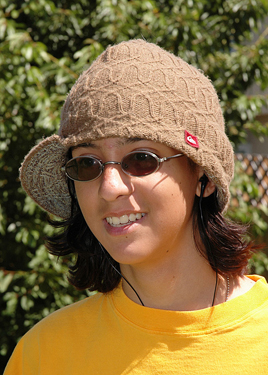 The Hat. Sam bought this hat during our trip to Oregon. It became a permanent fixture until someone stole it one of the times he wasn't allowed
to have it on his head.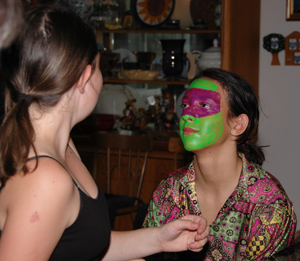 A lot of hanging out & talking on the tramp, is that what teens do these days? Of course, there was face painting & the obligatory birthday cake & ice cream.