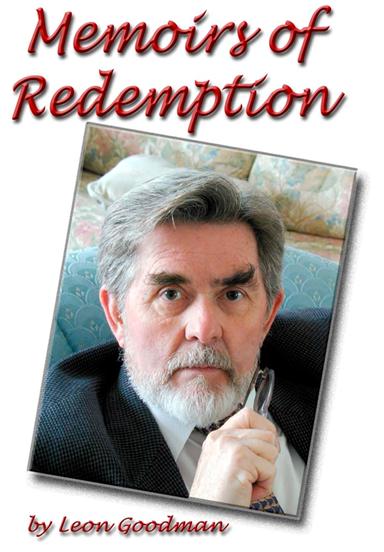 Dedication
This book is dedicated to my dear wife, Eva Castle Goodman, who loves me in spite of myself and has seen the good and the bad and forgives me when I need it. She also keeps me literate and helps me to organize my thoughts and remember how it really was. And besides, without her I might be an aging playboy on the streets of San Francisco, trying to impress the ladies on a Social Security income.

Preface
This first edition of Memoirs of Redemption is just that; a first edition. My wife tells me that it's only half of what it should be. There's lots more to tell. But with my 50th high school reunion rapidly approaching, in the words of a famous pig, "Th-th-that's all, folks!"
The only thing permanent is the soul. I have borrowed some protein and minerals which were organized by samples from my parents. They also gave me some protected opportunities to integrate with the body and form some of my operating system kernel useful to perception and control in an unfamiliar environment. I entered a game of development and survival. At the end of the game I have either destroyed my vehicle or worn it out. During the game I will learn to find truth, be obedient, take charge and yield to the benefit of others... We are not just a spoonful of the cosmic mush, we were individuals from the beginning and will remain individuals forever. See you on the other side. (Felix L. Goodman)
NewsScan Daily
, Nov 10, 1999...
"Either write something worth reading or do something worth writing."
-- Ben Franklin