Women
My boss in LA, Gary Manthorne, was a womanizer of biblical proportions; even though he had a lovely wife and kids. One day, a woman walked into his office who caught my attention. Of course, Gary was ga-ga! Tara was 6 foot, 4-½ inches tall and wearing heel besides. She was the Xerox representative and was making a sales call. This was too much temptation for me. A reminder, I topped out at barely 5 foot 4 inches as an adult. I just had to meet her. Who knows? Maybe she likes to dance. It turns out, she did. I was still very active in the National Microfilm Association and a major conference was being held in Anaheim. I asked her to go to the Presidents Ball with me and she was a hit! Yes, we danced; and I used all my short man – tall woman moves on the dance floor. As we walked around, I was amused by the obvious double takes and backward glances by people in mid-sentence. I could always find her in a crowd; she stood out, about a full head out. She had been the US high jump entry in the Mexico City Olympics. We had good times together and she taught me all about sushi and I began to make it for guests. The sushi masters would tell me anything when she was at my side. I learned a lot. She was wonderful arm candy when I went to the Magic Castle. You are not supposed to bother celebrities at the Castle and so I got a lot of reverence for a new guy on the block. Tara eventually went back to Oregon and married a high school athletics coach and had a family.
One of the activities of Oakwood Garden Apartments was a ski club that went to Mammoth Mountain on weekends. I had never skied in my life and decided since I wasn't going to be missed if I killed myself, that it would be a good time to learn. I did and I liked it. We would pile into a padded panel truck with a jug of wine and junk food, and travel to Mammoth on Friday afternoon and ski Saturday and Sunday and be driven home. It was about five hours each way. On Saturday night we went out to Hilton Creek near Bishop and skinny-dipped in the hot springs by moonlight. There would be anywhere from 10 to 100 people there bobbing in the bend of the creek where the hot water bubbled up. The outside turn of the creek passed the cold water so you could crouch and move from 110o to 32o in about five steps. The beverage of choice was a gallon jug of apple juice spiked with tequila. The jug had a string to hang around the neck to prevent it from going downstream. It was a very unusual experience. There was two downsides to the experience: Getting back into your clothes when the air temperature is freezing, and drowning. We lost someone one night.
It has been over thirty years now and I like to get a little skiing in each winter if I can. In Boise, we are only 18 miles from the slopes and it is cheap enough to do in retirement. When I am 70, I get to ski for free.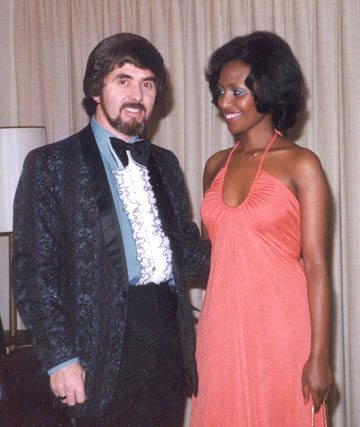 Big Linda introduced me to Sally after we got back from Europe. I was smitten. I will describe Sally as a very striking, petite Ethiopian Princess, who escaped the Marxist revolution to the West while working as an airline hostess. She was from a family highly placed in Ethiopian society and government. She remembers social events in the Emperor's palace as well as executions of family members in the public square. Her 15 minutes of fame in Ethiopia was when she led in the two lions from the movie Born Free and presented them as a gift to the 'Lion of Africa', Haile Selassie, Emperor of Ethiopia. My mind's picture of this is that the lions must have stood as tall at their shoulders as she was and she had them both on a leash at the same time. Of course, Sally is her American name.
We hit it off well and soon she was going to the Magic Castle with me. Sally became a life-long friend.