Commitment
Eva had been my closet relationship, almost like a mistress. Now we were going places on prime time, weekends. She was first introduced to my friends on a ski weekend in March 1982. My parents came to visit that summer and met Eva then.
The bank was very good at executive training and offered a time management course. In addition to learning how to use a daytimer and do effective meetings, setting personal goals were emphasized. I had made some bad habits and had an attitude about commitment. I didn't want to own real estate or have more furniture and other things than would fit in a small U-haul trailer. I didn't want to have lawns, house plants, pets, or anything else that needed regular maintenance. I wanted to be unencumbered. I even had mixed feelings when I was burglarized and had all my cameras stolen. That's what happens when you have too much stuff. Relationships too, can be a burden. Wait! Is that fuzzy reality again?
In the time management class I was asked to imagine the future. Where did I want to be? Who would I be with? Could I see the day when I reached retirement? It was a painful exercise. I had been a millionaire on paper and in my mind when I was 37. One year later I was broke, in debt, unemployed, and lost my house and family. For the next 10 years I would live for the day, gather no moss, and indulge myself to every carnal need available on my income. I would have no one depend on me.
I had just fought with Angelo San Giacomo, the Don of San Francisco, the second largest landlord in the world, to end a citywide rent increase. Mine was the only name on the class action suit brought against him. I had been interviewed on TV and spoken to the city council on behalf of the community of renters in San Francisco. (My second 15 minutes of fame.) Wasn't I committed to the concept of renting and not owning property?
Apparently not.
My goal was to own a home with a San Francisco address in three years. There was only one green card that came with my daytimer and that was for my goals. I placed it in a slot on the left side of my daytimer where I would see it every time I opened it. I did not need three years. Within 18 months Eva and I moved into our own San Francisco row-house in the Glen Park neighborhood.
We tried to avoid Glen Park because that was where Jackie owned a home and I was never able to establish a truce following our relationship. As a result, we sometimes saw her at the BART station all three of us used to get to work.
Buying the house in that time period was somewhat of a miracle considering I had no savings when I set the goal. Saving became easier when I didn't have to entertain every single woman in San Francisco. Also, I got a very fat bonus for saving the bank 18 million dollars. Eva also contributed everything she had to complete the deal. We were making commitments even though we had not made the ultimate commitment.
My 30th high school reunion was in 1983. I had never gone to any other high school reunion, I'm not sure why. I felt pretty good about myself and was willing to risk it. It was also a good time to see my folks again and introduce Eva to the place where I grew up. Sally was the only other person I brought home to El Paso since I had been married to Jane.
Eva did not get a lot out of the reunion, other than food poisoning, but I was thankful to have her there. She was the youngest significant other there. We were all about 47 and Eva was 27, a very wide gap in age.
June 1st was beginning to be the milestone month. We began to date on about June 1. A year later we began to live together in the downtown apartment, bought the house the next year, same time, got engaged the next June, and were married the following June 1, 1985.
We had a very happy life in Glen Park and learned to get along while painting and remodeling. We had many happy parties and Eva made a very dear friend in the neighborhood and they keep in touch and visit as often as we can.
Our engagement was fun. We had a party and I did some magic, the conclusion of which was the linking rings. The finale was Eva holding a big ring with her engagement ring displayed for the very first time. A cheer went up. None of my friends thought I would ever marry again.
Our wedding was also a very fun event. We had a whole year to plan. We had to pay for it all ourselves and we wanted something very special. Special it was. We secured permission to have the ceremony in the Palace of Fine Arts rotunda, the very essence of San Francisco. We wrote our own vows; which we recited and repeated to each other. We had my good friend Bob Patterson coach us, if needed, to make sure we repeated the vows to each other properly; and we had a county clerk standing by to sign the papers. We had a musical ensemble, who was later our dance band, play music in the rotunda. With the exception of a little too much breeze it was perfect. My family was all there, some of Eva's family was there, and many dear friends. Calvin Fei did a video for us and I hired a photographer who did it my way with my cameras.
The following is the wedding vows. I started by saying the line in bold followed by the next line. Eva repeated me and added the line following. I then repeated her new line and added the following line etc. until we got to a new bold line.
I promise:
to love you always
to accept the individual that you are, the uniqueness that is you
to work for a deeper understanding of who you are
to allow the personal time necessary to sustain your self
to nurture your talents
I will:
share in the tasks of everyday life
endure in time of trouble
share in triumph and disaster
be with you, to comfort you and accept your comfort in times of need
discuss matters with patience and understanding
listen, even when no words are spoken
respect you, your opinions and values
trust you and believe you
be honest with you
hold no secrets from you
forgive you and ask your forgiveness
be thoughtful and considerate of your feelings
I aspire:
to share my thoughts, dreams, hopes, and desires with you
to be open to those who would strengthen and enhance our love,
and avoid those who would tear it down
to be slow to anger
to not be jealous or proud but take pride in all that is good in this union
to begin each day with joy, exhilaration, and anticipation of what is to come
to live each moment to the fullest
I will love you with all my heart and being.
I give this ring as a symbol of my love and take you as my (husband/wife) from this day forth for as long as our souls are allowed to co-exist.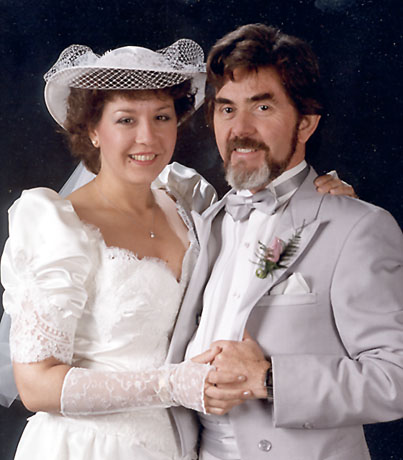 Our reception was at the Century Club of California, the woman's club that existed from before the 1906 earthquake and fire. It was on Van Ness on the safe side of the dynamite line when the city was flattened by the Army to stop the fire.
Our music theme was Billy Joel's Just the Way You Are, played and sung by our local band. We had two kinds of Champagne, a California almond flavor and a black bottle dry Spanish Champagne.
That was not all. That evening we had a dinner for the immediate family in the Mansion Hotel, a historic Victorian building very similar to the Magic Castle with a live performance of magic and a musical saw concert accompanied by a ghost piano by the owner Bob Pritikin. Bob was not only a great magician but he is also a very accomplished pianist and advertising giant. He was responsible for the Folger's Coffee commercial that was made famous by the musical strains of Mozart's Piano Concerto #23; which was also the keynote of the evening performance. The parlor only holds 18 people so this was a very special event.
We bid our family goodbye and went upstairs to the beautiful Josephine suite for the first night of our honeymoon.
We sent our thank you letters from Spain on post cards from places we visited. We started with almost empty suitcases and had to buy a steamer trunk before we were ready to return. We bought local clothes and shoes from a department store away from the center of Madrid and rented a Seat (rhymes with Fiat); which is the Spanish version of a Fiat.
We had no set schedule but only a return day. We stayed in castles that had been converted to bed and breakfast inns and old hotels in the crooked side streets of Seville and Toledo. We took two good cameras and lots of film and made two wonderful albums of our honeymoon that we still love to review.
Life was good. We fixed up our home in San Francisco and remodeled it and it appreciated very much. As we settled in to married life there were changes and developments. We had become monogamous naturally and our friends were married couples now having babies.